Introduction
Late modernism in visual arts covers all of the art made after World War II and in the early 21st century. Late modernism describes movements that arise from and react against, trends in modernism. In the field of Graphic Design,  Push Pin Studios became a revolutionary force when they brought together design, typography and illustration into a single practice. They were the children of modernism but turned to the past for inspiration just as the artists of the Arts and Crafts movement had.  Push Pin Studios had used anything in the past as inspiration, from Art Nouveau, Chinese wash drawing, German woodcuts, American primitive paintings, the Viennese Secession and even cartoons from the 30's. At a time when 'Helvetica' typeface was commonly used,  Push Pin Studios went against the minimalist design by using novelty typefaces, a mixture of vibrant colours and clashing of intricate patterns. Their work challenged the dull  50's and became an inspiration to the psychedelic 60's.  The Push Pin Studios believed that there was more to graphic design than just following geometric grids.
Members of the Push Pin Studios:
Push Pin Studios History
In 1954, a graphic design and illustration studio formed in New York City. It is called Push Pin Studios. Founders of the studio were Milton Glaser, Seymour Chwast, Reynold Ruffins and Edward Sorel. They were graduates of Cooper Union College in Manhattan, New York City. It started off when Sorel and Chwast joined forces to form an art studio after losing their jobs from the Esquire Magazine.  Seymour Chwast, Edward Sorel, Reynold Ruffins and Milton Glaser were finding ways to attract freelance illustration assignments. They did this by producing a series of mailing pieces called the Push Pin Almanack. It was inspired by Farmers Almanacs and Will H. Bradley's obscure booklets from the 1890's. The Push Pin Almanack were filled with arcane facts, curious quotes, illustrations, articles and ads for graphic design suppliers. It was sent to three thousand art directors, and the result of that, the freelance assignments came.
After awhile they realised that the Almanack's was getting out of style so they invented the Monthly Graphic in 1957. Like the Almanack, it showcased the kind of work they hoped their clients would need. It was also a platform for them to express and experiment. Seymour Chwast and Milton Glaser were drawn to the old graphics of the Victorian, Art Nouveau and Art Deco periods. They recycled from these movements and produced work closer to their own style.
The Monthly Graphic then became Push Pin Graphic to identify it with Push Pin Studios. They produced 86 issues, from 1957 to 1980. It was then financed by other work at the studio which produced posters, packaging, illustrations for animation, publications and advertising.
Edward Sorel left Push Pin in 1956, and at the same time the studio moved into a better space on East 57th Street. For twenty years Milton Glaser and Seymour Chwast directed Push Pin Studios.  It became a guiding reference in the world of graphic design. Today, Seymour Chwast is principal of The Pushpin Group, Inc.
In the 1970's, the Push Pin Studios had exhibitions, which started off at the Museum of Decorative Arts of the Louvre to a few cities in Europe, Brazil and Japan. Notable graphic designers and illustrators, John Alcorn, Paul Davis, Barry Zaid and Paul Deegan began their careers at Push Pin Studios.
The Push Pin Almanack:
Characteristics of Push Pin Studios
The illustrations by Push Pin Studios had a distinctive quality, which were bulging 3-dimensional lines. The Almanack used typeset that were elegantly teamed with comical line drawings and Chiaroscuro woodcuts. They took exotic inspirations from Persian and Indian miniatures, Victorian Children's books and toys from flea markets. The typefaces they used were the slab serif Victorian, curvilinear Art Nouveau, rectilinear Art Deco, spiky German Fraktur, Black Letter (Fraktur) & Roman typefaces. Samples of their work:
The use of Black Letter (Fraktur) and Roman typefaces:
Push Pin Studios masthead is a black letter cartouche with a swirling linear swash which was designed by Milton Glaser. The Art Deco motif became Seymour Chwast's signature "Roxie Style".
Illustrated posters with original lettering (similar to the twentieth-century poster designers) formed a significant part of Push Pin style. Milton Glasier's famous 1967 poster of Bob Dylan was a harmonious marriage of Persian miniature ornament and Marcel Duchamp' self-portrait. It was two conflicting historical references into a single work.
Entertaining Boxes, Number 24  was one of the covers that Push Pin used to represent old typography and Morgan Press's Victorian wood type. A combination of old engravings in a boxed grid.
Push Pin used distinctive colours like green, pink, navy and orange to differentiate every issue. Unlike the other graphic journals at the time that were reporting on current design trends, Push Pin Graphic came up with their own trends. Readers loved it because it became a sample of successful jobs, a model of design that was created under real world conditions and was free from clients restrictive criteria.
Another inspirational trend that many followed were of Milton Glaser's simple round corner boxes that framed line illustrations.
A mix of styles as shown below by John Alcorn. A mix of decorative,full of expression anti-modern and eclectic typography.
In the issue number 42, Diary of a Madman, Seymour Chwast used surrealist photo montage and collage that was popularized in the 20's. It was used in the mainstream American illustrations in the 60's.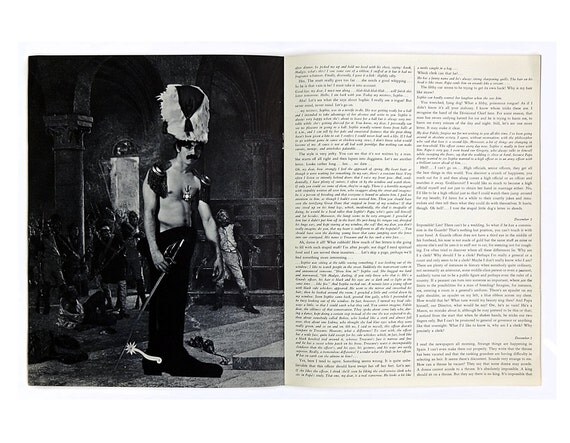 Many of the Graphic's themes were momentary  while others were openly political. Issues like Civil Rights, rampant violence in America, racial issues and the Vietnam War were foremost on their minds. It alienated a few clients but it didn't stop Chwast or Glaser from speaking their minds.
Due to financial pressures, Push Pin Studios published their last issue in 1980. The Nose, a more humble publication, launched in 1997. It was designed and illustrated by Seymour Chwast, and Steven Heller was the editor. The journal continued Push Pin's tradition of publishing and promotion. They published their last issue in 2009, number 20, which focused on the subject of Crime. By introducing conceptual illustration and wide-ranging graphic design to America, Push Pin Studios became an incalculable influence in the world.
Influence of Push Pin Studios in my own work
As part of the HND1 Graphic Design course, we are to design a limited edition packaging for Butlers Chocolates. The range is called 'Vintage Series' and must be influenced by an art movement or style starting from the 1930's onwards. This assignment requires us to design the 100g chocolate bar wrapper and an assortment box of our choice.
I did my research on the history of Butlers Chocolates, and learnt that the business was pioneered by a lady named Marion Butler. She used to make chocolates by hand. Chocolates back in the 1930's  were considered a luxury item so they were exclusive and sold at prestigious events like the Horse Fair. Hence, the horse and rider logo that was used as their identity.  It was then taken over in the 1950's by the Sorenson family from Cork. Butlers Chocolates's mission is to create irresistible chocolates that are accessible to everyone, and by doing so, to add a little moment of happiness to everyday life. Butlers Chocolates became an affordable luxury that people all over the world could enjoy.
Looking at the current packages, the design is minimal, yet elegant. The wrappers are in white to show cleanliness. The image of the product, the logo and text are in gold. The gift boxes are mostly in dark brown, gold and wrapped with yellow coloured ribbons. A colour combination of luxury. Samples of the existing wrappers and boxes:
With the freedom to experiment and expand my creativity, I wanted to give Butlers a new look. Something that is playful, humorous with eye-catching illustrations. These are a few ideas I came up with:
First Idea
I love illustrating and find it to be my strongest skill, so I decided to draw faces and figures. I find that majority of people are drawn to faces, so I picked the Art Deco movement to execute this idea. The Art Deco period was a time of decadence and stylish women. It first appeared in France just before World War 1. It flourished internationally in the 1920s, 1930's and 1940's before winding down after World War 2. It is a style that combines traditional craft motifs with Machine Age images and materials. Art Deco represented luxury, glamour, exuberance. Most of the art at the time had elegantly dressed women as their subjects. Here are a few examples:
Tamara De Lempicka, Young Lady with Gloves, 1930 and a Belga cigarettes poster:
The design I came up with was aimed at working women. I personally turn to chocolate as a 'pick me up' food especially when I'm feeling down. I know most people are worried about gaining weight from consuming too much of it, but women nowadays, go to the gym to burn off those calories. Hence, the catchphrase I came up with " You can eat chocolate and still look good". Fonts that were used, I downloaded from websites, 1001 Fonts & Fontspace. Font names were Odalisque and Nouveau Regular. I coloured the illustrations using the gradient tool to achieve a 3 Dimensional look.  Below are sketches and the vector illustrations that I've done and incorporated into the packaging
Second Idea
The second idea was to illustrate whimsical and surreal subjects. I visited a few sweet shops in Dublin city and found out that Wonka Bars were the best-selling chocolate bars, especially in The Olde Sweet Shop.The Wonka Bars are popular because of the movie 'Charlie and the Chocolate Factory'.  Children love mimicking the movies and the idea of finding a golden ticket in their Wonka bars never wears off. With fantasy and surrealism in my mind,  I looked at Dadaism art movement. Dadaism was an art movement in the early 20th century.The movement was a protest against the bourgeois nationalist and colonialist interests. Dadaists believed that the bourgeois capitalist society had led people into war. They expressed their rejection of that ideology in artistic expression that appeared to reject logic and embrace disorder and irrationality.  Key artists of Dadaism were Marcel Duchamp, Beatrice Wood, Kurt Schwitters, Hans Richter and Max Ernst. I was drawn to Max Ernst's work. I loved his collage work where he used images from Victorian encyclopedias and produced the novel Une Semaine de Bonte in 1929. Max Ernst produced a surreal world which I thought would be appropriate for my idea. Below are images of his work:
Sketches inspired by Max Ernst's work. I used ballpoint pens and adjusted the colour with Adobe Photoshop. Reference was made by looking at Victorian engravings.
To inject a little humour, I included limericks about chocolates that I found online:
Fonts that were used were downloaded from Fontspace and Dafont. One was called Victorian Parlor and the other was called Great Victorian Standard.
Third Idea
The third idea was to design the packaging for children. Based on Push Pin Studios's Limericks and other Nonsense, from 1959, I was inspired to illustrate zany characters enjoying bars of chocolate. Below are images that inspired me. They were illustrations done by Seymour Chwast, Reynold Ruffins and Milton Glaser for the Push Pin Monthly Graphic issue #20.
I loved the simplicity and the playfulness of it.They used black ink for the illustrations and rounded corner boxes to frame the illustrations. With the above illustrations as inspiration, I drew a few characters of my own with ballpoint pens to mimic Victorian engravings and incorporated the Butlers Logo and text. The final design will be printed on textured cream coloured paper to give it a vintage look. I also added colours to enhance the illustrations. I used fonts designed by Seymour Chwast in 1981 called the Chwast Buffalo Black Condensed to compliment the illustrations. It gives the design an attractive, easy to read and a playful look. Different coloured bands with a description of the product will be placed on the wrapper. Below are images of sketches and the outcome:
Packaging design for 100g chocolate bar wrapper:
I chose a rectangular box for the Chocolate Assortment series. Here is the design:
Bibliography:
Source: Boundless. "Art Since 1950." Boundless Art History. Boundless, 21 Jul. 2015. Retrieved 26 Feb. 2016 from https://www.boundless.com/art-history/textbooks/boundless-art-history-textbook/global-art-since-1950-ce-37/the-world-since-1950-ce-231/art-since-1950-824-10853/
REF:https://www.boundless.com/art-history/textbooks/boundless-art-history-textbook/global-art-since-1950-ce-37/the-world-since-1950-ce-231/art-since-1950-824-10853/
REF:http://www.historygraphicdesign.com/the-age-of-information/postmodern-design/526-late-modernism
REF:https://en.wikipedia.org/wiki/Cooper_Union
https://en.wikipedia.org/wiki/Push_Pin_Studios
Images: http://www.aiga.org/MobileSite/Interior.aspx?pageid=44&id=3219
https://www.etsy.com/listing/178636422/the-push-pin-graphic-issue-42-1963-diary
http://www.abebooks.com/books/RareBooks/ernst-surrealism-art/une-semaine-bonte.shtml
Research on how to write an essay:http://www.schoolatoz.nsw.edu.au/homework-and-study/homework-tips/10-tips-for-writing-an-essay
http://www.schoolatoz.nsw.edu.au/homework-and-study/homework-tips/10-tips-for-writing-an-essay
Notes from the book: The Push Pin Graphic, A quarter century of innovative design and illustration by Seymour Chwast, Edited by Steven Heller & Martin Venezky  and introduced by Milton Glaser. Chronicle books, San Fransisco, California, 2004
Images: https://rightearleft.wordpress.com/2015/03/09/milton-glaser-designing-dylan/
http://www.pushpininc.com/about/pushpin/
Ref:http://www.butlerschocolates.com/
Ref:https://en.wikipedia.org/wiki/Une_semaine_de_bont%C3%A9
http://muriel-lavender.blogspot.ie/2011/11/if-chocolate-be-food-of-love.html
https://en.wikipedia.org/wiki/Art_Deco
http://www.travelpostersonline.com/vintage-cigarette-advertisement—belga-cigarettes-poster-5516-p.asp
http://www.1001fonts.com/art-deco-fonts.html
http://www.fontspace.com/alan-cairns/nouveau-2
http://www.dafont.com/great-victorian.font